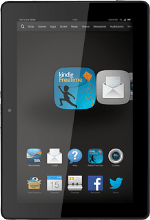 Amazon Kindle Fire HDX 8.9
Find "E-mail"
Select email account
Press
Inbox
below the required email account.
Create email message
Select recipient
Key in the first letters of the required contact.
Matching contacts are displayed.
Press
the required contact
.
Repeat the procedure to add more recipients.
Enter subject
Press
Subject
.
Key in a subject for the email message.
Write the text
Attach file
Press
Attach File
.
Go to the required folder.
Send the email message
Press
Send
when you've finished your email message.
Return to the home screen
Press
the home icon
to return to the home screen.