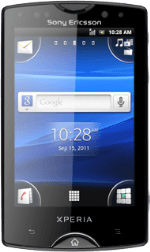 Sony Ericsson Xperia Mini Pro
You can select which network modes your phone can use. This setting determines the data speeds you can achieve. Follow these instructions to change network mode.
Press
Wireless & networks
.
Press
WCDMA only
,
GSM only
or
GSM / WCDMA pref.
.
Press
the Home key
to return to standby mode.
Email this article to your friend