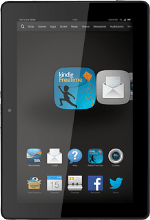 Amazon Kindle Fire HDX 8.9
Bluetooth is a wireless connection which can be used to transfer files between two devices or to establish a connection to other devices, such as a wireless headset or keypad.
Find "Bluetooth"
Slide your finger down the display starting from the top edge of your tablet.
Press
Wireless
.
Turn on Bluetooth
Press
Bluetooth
until the display tells you that the function is turned on.
Pair a Bluetooth device with your tablet
Make sure the other device is turned on and is ready to connect via Bluetooth.
Press
Pair With Bluetooth Device
.
Your tablet searches for devices and after a moment, a list of Bluetooth devices within range is displayed.
Press
the required Bluetooth device
.
Follow the instructions on the display to pair the Bluetooth device with your tablet.
The new device is displayed on the list of paired devices.
Return to the home screen
Press
the home icon
to return to the home screen.